Winter Project 2007 / 2008
In the last year we had the luck to get 180 sqm skin-colored ripstop nylon.
This condition allowed us to produce even inflateble figures with little less clothing. The first idea was in the direction of Fred Feuerstein and Barney Geröllheimer.
But then we purchased on Ebay the characters of Asterix and Obelix. Relatively quickly the idea was born to build the two small heroes.
Remains also guarantees that the two never be separated!!



Very soon we created the necessary templates and cut out the parts with much vigor. Then it went quite quickly to the sewing.
A particular challenge was to create his drinking bottle and his sword. After all, that has a length of almost 3 meters (9,8 ft).
In both parts we had to sew gauze so that they rise later in the wind. And ensure they stay in shape, we have provided the sword and bottle with inner cords.
After the body was finished relatively quickly, we went to his head. Which consists of 28 parts. A particular challenge was definitely the hair and mustache.
On the rag doll, these parts made from lint. We had to create the beard for this kite. In many parts we had to be sewn in tucks.
Then fit the reinforcement at the inner seams and sew everything with strings together. Then get the inner cords by a fan on the right internal length.
Attach scales at the small Gaul so he is ready for his test flight.
Here the distribution of the small Gaul:
All in all, a total of 160 sqm ripstop nylon.
Then the templates were created for the obese Gaul.
The feet and range up to the pants could be used by Asterix. The pants and the stomach were created from 28 individual parts.
Upper and arms took another 8 parts in claim. Finally the head with 42 individual parts and the obese Gaul had only to get scales and inner cords.
In total, the Asterix and Obelix project swallowed 362 sqm ripstop nylon. The result is impressive.
Here the distribution of the obese Gaul:

All in all, a total of 202 sqm ripstop nylon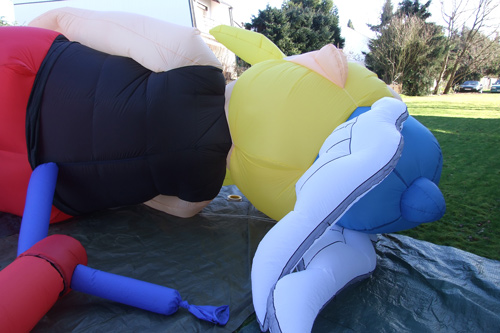 Here first two figures on the grass without bridle lines and inner cords
11 meters (36 ft) total length
Customize the sword and the drinking bottle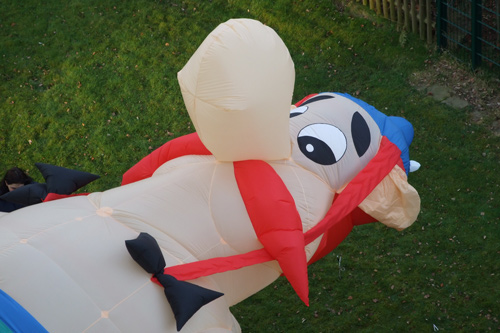 Finished head without mouth :-) ....................................................................... According to this model ????
Asterix`s pants.................................................................................................. Obelix`s pants
Here are some photos of the first flight on 05.04.2008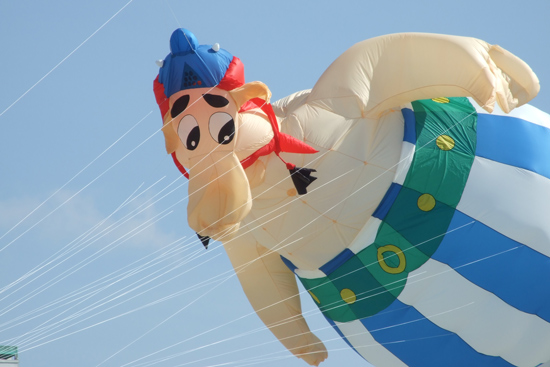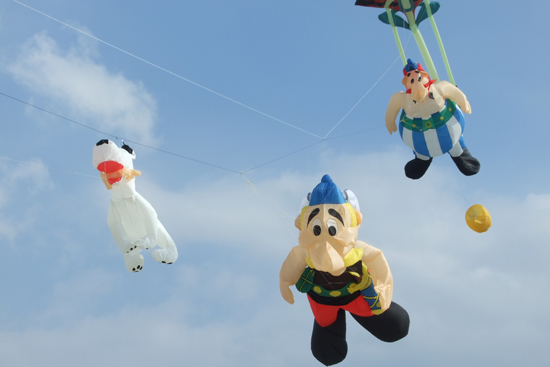 Here's a little video
Roman soldier
A gift from Frank Steinert (Steini ) of the Drachenflöhen Berlin
Thank you very much for that!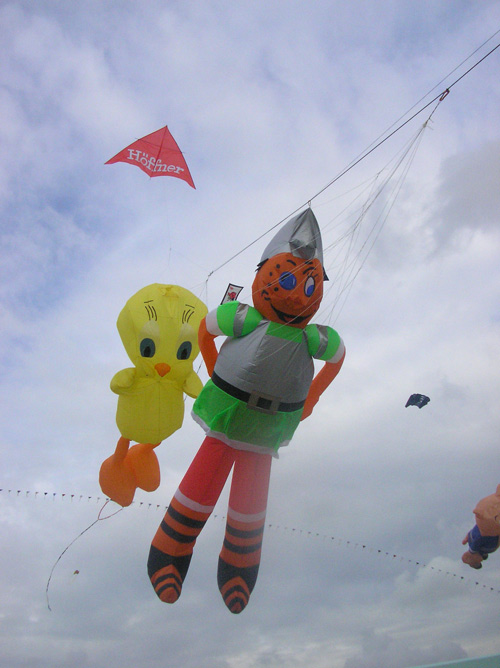 and another new signing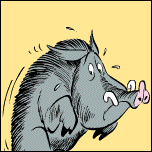 boar
name German: Wildschwein
name French : Sanglier
name Latin: Igorix
name Dutch : Everzwijn
name Spanish : Jabalí