Winter Project 2008 / 2009
Cacofonix, the bard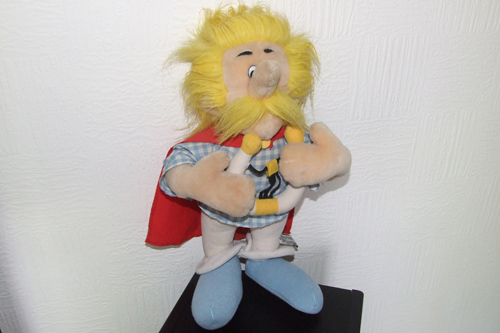 name German : Troubadix
name French : Assurancetourix
name Dutch : Kakofonix
name Spanish : Asurancetúrix
name Italian : Assurancetourix
name Portuguese : Assurancetourix
This Gallic hero, which is said that he could brought rain when he is singing indoors, was from January to April 2009 on our to do list.
The textile figures we had already bought last year on Ebay. Preloaded by the other two Gauls, we started to work by our well tried style.
Neatly separating and transferring of the projected parts on paper, was just as much as cutting out the material parts.
A particular challenge was the shirt. Blue and white plaid is not find every day under our sewing machine.
So we went on 06. January with the creation of the foot as a paper template.
Template of the sole
On 14. January both feet and borders were already.
On 20. January, a third of the Gaul was finished. Shoes, pants and border had been sewn together.
So it could go on his shirt. 60 blue and white stripes, each 3,60 meters (11 ft) long, had to be sewn together.
The shirt of the bard alone swallowed 45 sqm ripstop nylon. On 15. February his shirt and his hands are ready.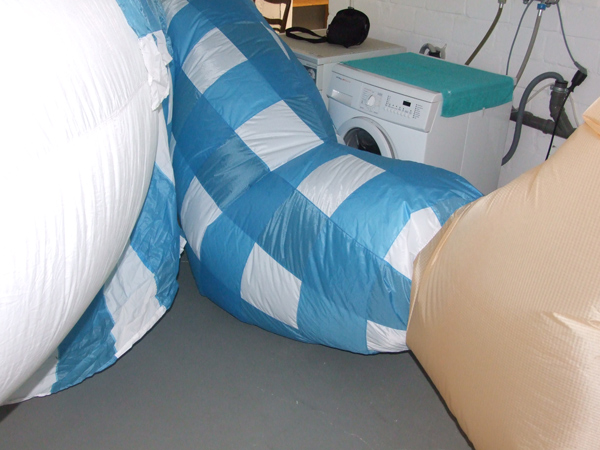 Arm and hand ................................................................................ Then on the body
Now we went to his belt and his harp. The belt around the waist area, has a length of 7,50 meters (24 ft) and a width of 0,40 meters (1 ft).
The harp consists of 7,5 sqm ripstop nylon.
In the golden balls are each fitted with air intakes so that the instrument may well blow up later in the flight.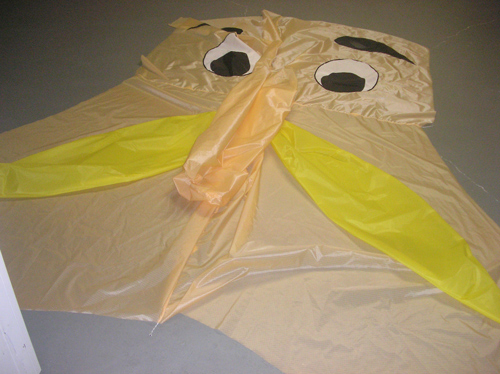 In late February we made the head of the Gaul. Skin-colored and yellow-colored ripstop nylon were again a lot of 45 sqm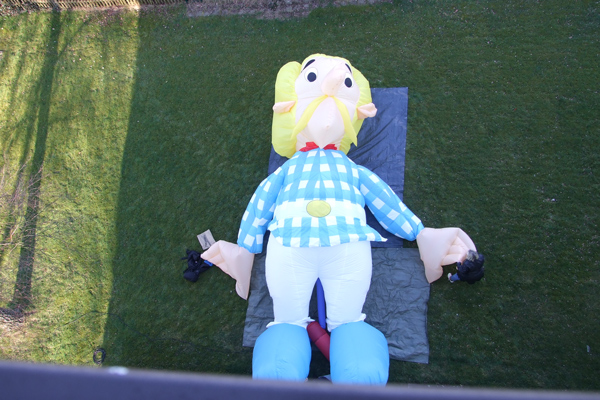 So that the little guy swallowed a total of 170 sqm ripstop nylon
Interior and exterior ropes have consumed a length of 200 meters (656 ft).
The internal work we have done on 22.03.2009.
Many thanks to Robert Kirsch and Marc Pikur for bridle line support.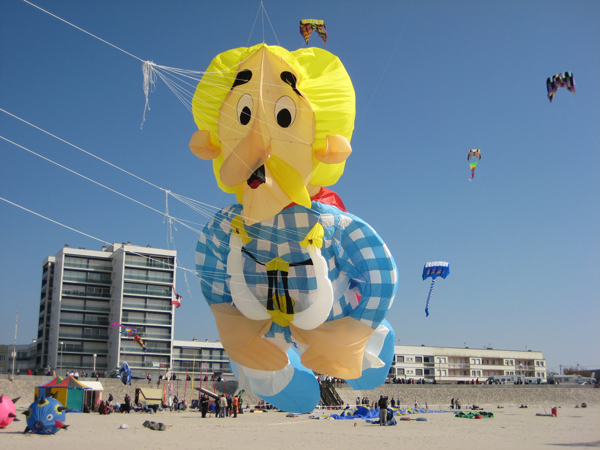 First flight was on 21.04.2009 in Berck sur Mer / F
Here's a little video